News
Four to Know – Brita Nelson Issue: Winter 2013
eclipseadmin
April 4th, 2013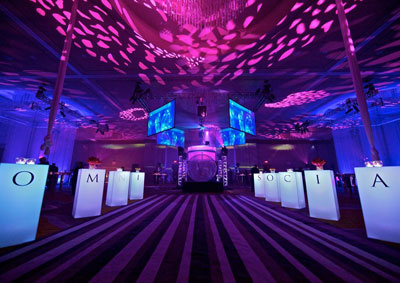 As a former professional singer, dancer and actor, Chris Arredondo, CTA, understands how artists think. After all, he was Ricky Ricardo just a few days ago. Not in a theater production, but as part of an event he hosted with Eclipse Entertainment, the company he joined in 1985 and now operates as a key partner.
In the 23 years since the company charter was formed, Arredondo and Eclipse Entertainment have thrice won the ISES award for Best Entertainment Production, and added awards in logistics, organization and socially conscious efforts to the mix. But Arredondo's not in it for the glory. "I'm in it for the passion," Arredondo says. "I love the arts."
And guests love his productions. "We're a niche business; no one does what we do in the Southwest," says Arredondo, estimating Eclipse has about 1.5 million costumes on hand and even more wigs, all to clothe and transform the talent hired by meeting planners. He makes sure he and his staff research every theme before executing the event or even deciding upon the array of entertainment they'll provide for an event. "Everyone wants something different, and we try to find out what the purpose is," says Arredondo, who personally meets with planners to walk through the surprises they wish to create for their guests.
Arredondo recalls a recent creative project that had guests talking for weeks. He worked with an event planner to produce an anniversary party for a couple who loved the arts. "They wanted spectacular," he says, "and they got it." The event was disguised as a formaldinner complete with colossal chandeliers. After dinner ended, the chandeliers began to fall from the ceiling, revealing human centerpieces. The largest chandelier was the last to fall, and in it? A popular DJ who immediately broke into the first song of the night. "It was like a lightning bolt struck," says Arredondo, as everyone started dancing and the chic dinner turned into an epic dance party.
At the helm of Eclipse Entertainment, Arredondo uses events like these to show off the company's logistical skills. All the moving pieces have to be perfectly coordinated for a cohesive, successful event. Or entertainment vendor, for that matter.
Source: http://tx.meetingsmags.com/article/four-know